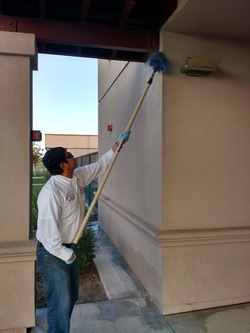 Preparation for your Pest Service
If you will not be there at the time of service, please email or let your technician know of any concerns or special attention needs.

Bring in pets during the treatment procedure.

Inform us of any outside events or needed gate codes.

Preparation must be done prior to treatment of roaches, fleas and/or bedbugs or treatment will be rescheduled.
Frequently Asked Termite Questions (FAQ) What are termites?
Termites are small white, tan, or black insects that can cause severe destruction to wooden buildings. Termite pests in California include drywood, dampwood, and subterranean species. These pests cause serious damage to wooden structures and posts and may also attack stored food, books, and household furniture.

What is the difference between a limited and a full inspection?
In a full inspection, we inspect all the structure that we can access without damaging, defacing, or moving anything. Inaccessible parts of the structure are noted on the report. A limited inspection is generally one particular area where the homeowner has noted or suspects damage, and is useful only for identification and estimate purposes.
Common Terms on Pest Reports:SECTION 1 ITEMS-
Visible evidence of infestation (such as termites, wood-boring beetles, carpenter ants) or infection (fungus).
SECTION 2 ITEMS-
Conditions present deemed likely to lead to an infestation or infection (such as moisture or a faulty grade).
FURTHER INSPECTION-
When an area is inaccessible or not visible for inspection purposes, a recommendation is made to open the area to reveal the enclosed space for inspection.
FUNGUS/DRY ROT-
Moisture-induced infection in wood which causes rot and the strength of the wood.
INACCESSIBLE AREAS-
Areas of a structure that cannot be readily viewed for inspection purposes without opening up or defacing the areas.
CELLULOSE DEBRIS-
Scattered remains of something that originated from a plant (for example wood or paper) found in the subarea crawl space.
EXCESSIVE MOISTURE-
If not controlled, excessive moisture can foster the growth of a fungus infection, materially damaging wood.
Payment for services:
Payment is appreciated upon completion of the service. We accept cash, check or debit/credit cards.
---